By Jacinta Faber on February 10, 2009
Several weeks ago, a sports story in my local paper caught my attention. The story recounted the trials a female high school basketball player suffered after she had "tweaked her bothersome groin."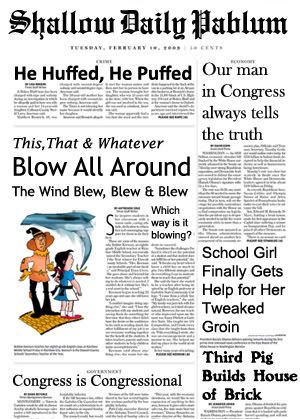 The good news is that the school girl's groin is cured now and she "can yield more production than her junior year."
The really bad news is for the readers of my local newspaper. Its journalistic tomfoolery is quickly becoming the rule rather then the exception. Straight news stories have evidently lost their appeal. Investigative reports? Never.
Human interest stories dominate in the paper and even take precedence in real news stories. "As he scraped off the blackened shards to save his charred morning toast, little did Congressman LocalGoodGuy know that, later that same day, he would be scraping the shovel-ready ashes off the wheat subsidies in the farm bill as the amendment went up in flaming defeat like wheat straw caught in a wildfire on a drought damaged prairie."
Does this type of introduction draw the reader in better than just the facts: "Farm Bill Amendment Stuck in House Committee"?